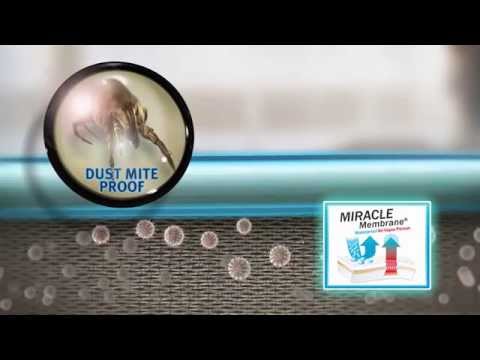 BugLock Plus (BOM3108) (Twin)
Features
Protect-A-Bed's BugLock® Plus Mattress Encasement offers superior Bed Bug protection for your mattress. The BugLock® Encasement is Bed Bug entry and escape proof on all six sides, and also bite proof on the top surface. Each features the patented BugLock® (US Patent 7,552,489); a three-sided zipper system with Secure Seal® for complete protection against Bed Bugs, dust mites, allergens and other irritants.
Bed Bug Proof
Bed bug entry, escape and bite proof.
Dust Mite Barrier
Dust mites are cut off from their food sources, moisture and skin flakes.
Allergen Barrier
The Miracle Membrane® creates a barrier and reduces exposure to allergens.
Bedwetting & Incontinence Protection
The Miracle Membrane® is waterproof, keeping your mattress dry and free of stains.
IMPORTANT: Images may not reflect actual product.
Specifications
General
Size
Twin
Style
6-sided
Bed Bugs/Dust Mite Proof
Yes
Compatible With Waterbed
No
Hypoallergenic
Yes
Machine Washable
Yes
Waterproof
Yes
Additional Information
Absorbent, waterproof and air vapor porous sleep surface; Bed Bug entry, escape and bite proof on the top surface; Dust Mite barrier & allergy protection on the top surface; Especially helpful in cases of incontinence and accidents; Cool and comfortable to sleep on; Expandable depth fabric; Cost effective hygiene and Bed Bug solution.
Dimensions
Width
95 in
Length
189 in
Content ID
210241